WOW Newsletter: Issue 2
---
Season's Greetings From Wired or Wireless, Inc.!
The WOW Team wishes you and your family a joyous holiday season!
Partnership Award Received from The Inland Northwest Partners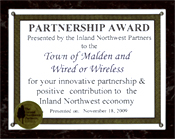 William B Geibel JR, President and Owner of Wired or Wireless, Inc. (WOW), and Mayor Ted Maxwell of Malden Washington, accepted the Partnership Award presented by the Inland Northwest Partners on behalf of WOW and the Town of Malden.
The award was presented to Geibel and Maxwell during the Inland Northwest Partner's 2009 Annual Meeting, "Road to Recovery: Cultivating the Spirit of Entrepreneurship", for the innovative partnership and positive contribution these two entities are providing to the Inland Northwest economy. WOW and Maxwell have been recognized for their cooperative efforts to bring broadband Internet services to the town of Malden.
"WOW is currently in the process of building a network infrastructure which will bring high-speed Broadband Internet and a community center to Malden WA through the Community Connect Broadband Program Grant from the USDA Rural Development organization. The center will provide the general public free access to a much needed broadband Internet connection", as stated by an Inland Northwest Partner Representative while presenting this award, "During later phases of the grant WOW will be working to also provide the Malden Police Department, Malden City Hall, and Malden Fire Station free broadband Internet access."
Technical Tip: SPYWARE - What You Should Know
Recognizing and Avoiding Spyware
Because of its popularity, the internet has become an ideal target for advertising. As a result, spyware, or adware, has become increasingly prevalent. When troubleshooting problems with your computer, you may discover that the source of the problem is spyware software that has been installed on your machine without your knowledge.
What is spyware?
Despite its name, the term "spyware" doesn't refer to something used by undercover operatives, but rather by the advertising industry. In fact, spyware is also known as "adware." It refers to a category of software that, when installed on your computer, may send you pop-up ads, redirect your browser to certain web sites, or monitor the web sites that you visit. Some extreme, invasive versions of spyware may track exactly what keys you type. Attackers may also use spyware for malicious purposes.
Because of the extra processing, spyware may cause your computer to become slow or sluggish. There are also privacy implications:
What information is being gathered?
Who is receiving it?
How is it being used?
How do you know if there is spyware on your computer?
The following symptoms may indicate that spyware is installed on your computer:
you are subjected to endless pop-up windows
you are redirected to web sites other than the one you typed into your browser
new, unexpected toolbars appear in your web browser
new, unexpected icons appear in the task tray at the bottom of your screen
your browser's home page suddenly changed
the search engine your browser opens when you click "search" has been changed
certain keys fail to work in your browser (e.g., the tab key doesn't work when you are moving to the next field within a form)
random Windows error messages begin to appear
your computer suddenly seems very slow when opening programs or processing tasks (saving files, etc.)
How can you prevent spyware from installing on your computer?
To avoid unintentionally installing it yourself, follow these good security practices:
Don't click on links within pop-up windows - Because pop-up windows are often a product of spyware, clicking on the window may install spyware software on your computer. To close the pop-up window, click on the "X" icon in the titlebar instead of a "close" link within the window.
Choose "no" when asked unexpected questions - Be wary of unexpected dialog boxes asking whether you want to run a particular program or perform another type of task. Always select "no" or "cancel," or close the dialog box by clicking the "X" icon in the titlebar.
Be wary of free downloadable software - There are many sites that offer customized toolbars or other features that appeal to users. Don't download programs from sites you don't trust, and realize that you may be exposing your computer to spyware by downloading some of these programs.
Don't follow email links claiming to offer anti-spyware software - Like email viruses, the links may serve the opposite purpose and actually install the spyware it claims to be eliminating.
As an additional good security practice, especially if you are concerned that you might have spyware on your machine and want to minimize the impact, consider taking the following action:
Adjust your browser preferences to limit pop-up windows and cookies - Pop-up windows are often generated by some kind of scripting or active content. Adjusting the settings within your browser to reduce or prevent scripting or active content may reduce the number of pop-up windows that appear. Some browsers offer a specific option to block or limit pop-up windows. Certain types of cookies are sometimes considered spyware because they reveal what web pages you have visited. You can adjust your privacy settings to only allow cookies for the web site you are visiting (see Browsing Safely: Understanding Active Content and Cookies and Evaluating Your Web Browser's Security Settings for more information).
How do you remove spyware?
Run a full scan on your computer with your anti-virus software - Some anti-virus software will find and remove spyware, but it may not find the spyware when it is monitoring your computer in real time. Set your anti-virus software to prompt you to run a full scan periodically (see Understanding Anti-Virus Software for more information).
Run a legitimate product specifically designed to remove spyware - Many vendors offer products that will scan your computer for spyware and remove any spyware software. Popular products include Lavasoft's Ad-Aware, Microsoft's Window Defender, Webroot's SpySweeper, and Spybot Search and Destroy.
Make sure that your anti-virus and anti-spyware software are compatible - Take a phased approach to installing the software to ensure that you don't unintentionally introduce problems.
Preventative Maintenance for your Two-Way Radio Assets
Identifying and correcting problems before they interrupt normal operations, causing system downtime can save your company valuable resources in the long run. WOW recommends a minimal bi-annual preventive maintenance schedule for your two-way radio assets.
Inspection, testing, cleaning and conditioning are all part of the comprehensive preventative maintenance that we offer at WOW. By testing we will insure that your equipment is compliant with your licensing from the FCC. Inspecting for corrosion, wear and tear, and proper installation (i.e. fusing and power wiring) will prevent costly equipment and/or property damage.
WOW offers high quality equipment for rugged applications. Portable and Mobile radios come into contact with significant amounts of soil and dust. This should be cleaned out of the equipment regularly to prevent premature equipment failure. Conditioning of your batteries will add service life to your batteries as well as increase the talk/standby time of the battery. Over time batteries lose the ability to take and hold a charge, conditioning is a cost effective solution to battery replacement. Your entire wireless system can be covered by a planned maintenance program. From the simple to the complex, your system can have a plan designed specific to your needs, including:
Portable and mobile radios
Base stations and repeaters
Console systems
Cellular or paging infrastructure
Broadband networks
Mobile or fixed data systems
Having your wireless system on a maintenance program offers excellent benefits to you:
Dependable up-time
Greater productivity
Safer working environment
Cost control
Longer system life
Maintenance program customers also enjoy:
Priority service
Discounts on parts and accessories
Simple paperwork
Scheduled preventive maintenance
Call today for a review of your system needs and a cost analysis on the value of a maintenance program.
Satisfied Customer Quote
"I am not one who is easily impressed, but the young man who contacted me and cleared up the problem should be commented upon.
Bill promptly responded to my telephone call. He was friendly, outgoing, helpful and VERY knowledgeable. The problem was isolated, found to be in equipment on the site, and promptly corrected. During the contact, I asked a couple technical questions and he pleasantly explained them in detail.
I would like to thank Bill again for his top-notch customer service and conclude by telling WOW-tel/Air-Pipe, You are lucky to have an employee of this caliber working for you."
Joe W.
WOW Team Member BIO
Darrell Larson, Project Manager
Darrell has over 27 years of expertise in the data/telecommunications industry. Darrell has been with the company since 2007 as a Project Manager. He has been successfully managing crews for installation, ordering materials, building quotes, and maintaining job satisfaction for many large networks in the Spokane and surrounding areas. Darrell is a graduate of Olympic College with an Associate degree in Electronics. Darrell previous work history includes employment at Communications Northwest and a Partnership at Advanced Communication Networks, Inc.
"Wired or Wireless Builds Networks", states Darrell, "We have the expertise to cable your business for voice and data along with copper and fiber backbones between your data/com closets. We have cabled for many businesses in the area. We are currently completing the cabling and fiber for new corporate headquarters of Inland Power and Lights. In the past we have cabled the Washington/Delta Dental offices in Spokane and Colville, the Huntwood Industries facility in Liberty Lake, and various Banner Bank Branches thru-out this area."
Wired or Wireless would like to help you with your network. We can cable your complete office or add a Voice/Data outlet to your existing network. We have the newest testing equipment and tools in order to complete the job in a professional manner. Call today to receive a quote for your next project.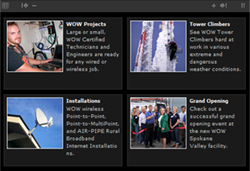 Check out newly added photos from the Grand Opening, tower climbs, installations, and our WOW Team hard at work.
Click here to view the slideshow.